Five Ways Satellite Data Can Help Prepare for the Unexpected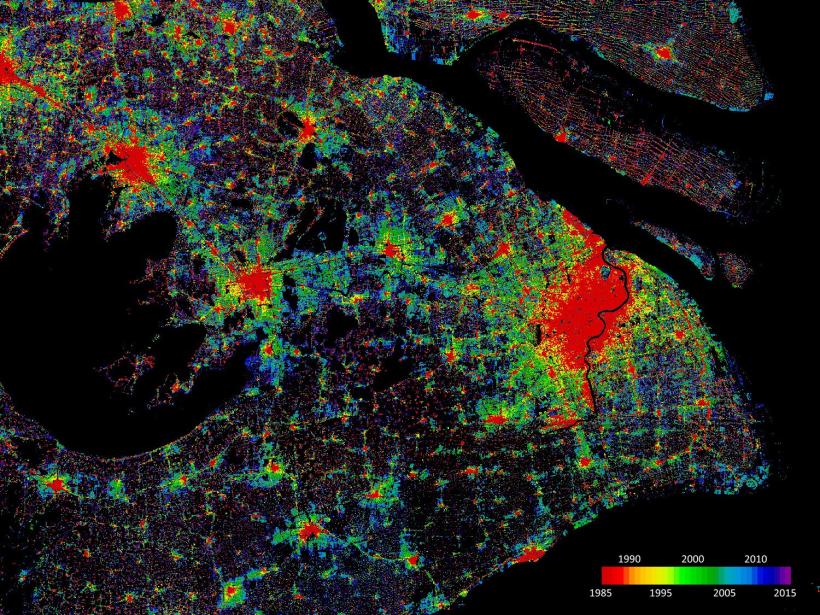 In a world turned upside down by the Covid-19 pandemic, the role of satellite imagery has never been so critical. At any time, more than 2,000 satellites are orbiting our planet. They help us communicate, locate, and gather data about complex, interconnected crises that require constant, comprehensive, and global monitoring.
Satellite applications are particularly relevant for disaster risk management and financial preparedness, in which early and reliable information is key in ensuring a timely and efficient response.
Here are five ways we can leverage the power of satellite data in the current Covid-19 context:
1. Tracking the Current Pandemic 
Pandemics, famines, and conflicts are not always visible to the naked eye, let alone to a satellite orbiting 800 kilometers above the Earth's surface. Nonetheless, satellites can detect critical indicators that are helpful in monitoring and responding to infectious disease outbreaks and other complex crises.
 
Coupled with ground data (e.g., those from health authorities and surveys), satellite imagery makes an outstanding tool for situation awareness. This is particularly true in the context of epidemics, which are often poorly modeled and are difficult to track over time. Advanced analytics can map roads and buildings using satellite data, and they even can help identify populations at risk of acquiring disease through specific transmission channels. Similarly, satellite imagery can track the construction of medical facilities, hospitals, and other elements of public health infrastructure. Satellites allow for precise monitoring at submeter resolutions of strategic areas, including tourist attractions, cultural points of interest, and public transport hubs.
 
Combining satellite imagery with thousands of open data sources creates a rich data set of both geospatial and demographic data, which has enabled public administrations around the globe to monitor the current crisis, to anticipate civilian needs better, to enforce restrictive measures, and to ensure safety in public spaces. A good example of this potential is the Earth Observing Dashboard, a concerted effort among the European Space Agency (ESA), the Japan Aerospace Exploration Agency, and the U.S. National Aeronautics and Space Administration. The dashboard combines the resources and expertise of its three partner agencies to strengthen our global understanding of the environmental and economic effects of the Covid-19 pandemic.
2. Measuring Lockdown Efficiency
The Covid-19 pandemic has paralyzed daily life. In the absence of another efficient remedy, lockdown restrictions continue to be the most critical instrument to minimize the effect of the crisis on the population. Moreover, satellite data give us direct insight into whether stay-at-home orders are succeeding.
 
As road traffic in cities around the world comes to a near standstill and as companies close major manufacturing plants, Europe's Copernicus Sentinel-5P satellite has provided key information about changes in concentrations of atmospheric pollutants such as nitrogen dioxide. By tracking significant declines in nitrogen oxide emissions over regions where activity is restricted, governments can monitor the efficiency of their lockdown measures. Less nitrogen oxide in the atmosphere means less human activity in areas where restrictions might help slow the spread of the novel coronavirus.

Photo Credit: ESA's Copernicus Sentinel-5P. Drop in Nitrogen Dioxide Concentrations over Italy, March 2019–March 2020
Finally, by tracking the movements of goods in ports and on major roads, satellite imagery can be used to measure the effects of the outbreak and the pace of eventual economic recovery. Today, many economic indicators significantly lag behind actual behavior and tell only part of the story; real-time geospatial data can help accelerate and focus recovery efforts, thereby minimizing negative financial effects.
3. Anticipating the Next Outbreak
Epidemic outbreaks tend to be location based: they emerge in certain areas and are transmitted along certain pathways. High-quality geospatial data enable epidemiological models to characterize location-specific disease transmission and risk factors. This is particularly important in low- and middle-income countries, which often lack reliable health record systems.
Satellite imagery can be used to monitor places where viruses are more likely to emerge or where certain risk factors are concentrated. For example, many novel viral illnesses, such as SARS (severe acute respiratory syndrome), MERS (Middle East respiratory syndrome), and Covid-19, are zoonotic—so-called because they can be transmitted from animals to humans. Around 75 percent of emerging infectious diseases are zoonotic.
One way to detect where new zoonotic illnesses such as Covid-19 might arise in the future is to monitor the places where humans come into contact with wildlife. Often, this contact happens where human beings are changing the landscape by turning forests into pasture land or fields for agriculture. As humans continue to squeeze the habitats of wild animals, the likelihood will continue to grow that a new virus—found, for instance, in bats or birds—will migrate either directly to human beings or indirectly to humans through livestock. Satellite monitoring of land-use change helps surveil current public health conditions, thereby allowing for better anticipation and location of outbreaks in the future.
4. Addressing Climate Change and Other Contributing Factors
Satellites provide objective evidence of not only the changes taking place but also the contributing factors, root causes, and underlying issues behind epidemics and climate change–related disasters. Satellite measurements of Earth's rising temperatures, heightened sea levels, changes in atmospheric gases, diminishing icecaps, and reduced forest cover, for example, are among the main ways to improve our understanding of the Earth and can help us predict its future.
 
Since 2014, ESA has operated the Copernicus environmental monitoring program, a unique constellation of 30 satellites providing the latest generation of Earth observation services dedicated to environmental monitoring and emergency management. Those satellite missions have proven critical to our understanding of where climate change is increasing the risk of transmissible illnesses.
 
The Zika virus, for instance, is carried by mosquitoes; as the Earth's temperature rises, the virus's habitat is expanding both northward and southward and away from the tropics, while its seasonality is also expanding. Satellites monitor the effects of climate change and thus provide a reliable indication of when and where human beings might be at risk of disease transmission.
 
Another application of satellite data is the monitoring of water bodies that have the potential to spread tropical diseases. "River blindness" is a widespread disease that has infected more than 20 million people and blinded nearly 1 million. It is transmitted through black flies that breed along fast-flowing rivers and streams, often in remote communities. Satellite imagery can identify where rivers are flowing in near real time, marking places where the risk of parasitic transmission is high, thereby helping to dispatch front-line health workers in a timely manner.
5. "Taking the Pulse of Our Planet" and Monitoring Compound Risks
Despite the current Covid crisis, other humanitarian crises and natural disasters are still happening and actually represent an increased risk to populations and economies. The triple health, economic, and financial shock from Covid makes people and businesses far more vulnerable to other disasters. Those disasters have lately included floods, droughts, and one of the worst waves of locusts to invade Africa in many years. Though such disasters are not unusual, what is different now is the effect that the Covid-19 pandemic has had on the global food supply. Measures to slow the spread of the virus are affecting the availability of inputs, labor, transport, and cross-border trade. Thus, Covid-19 is predicted to exacerbate the risks already facing the world's 800 million hungry people.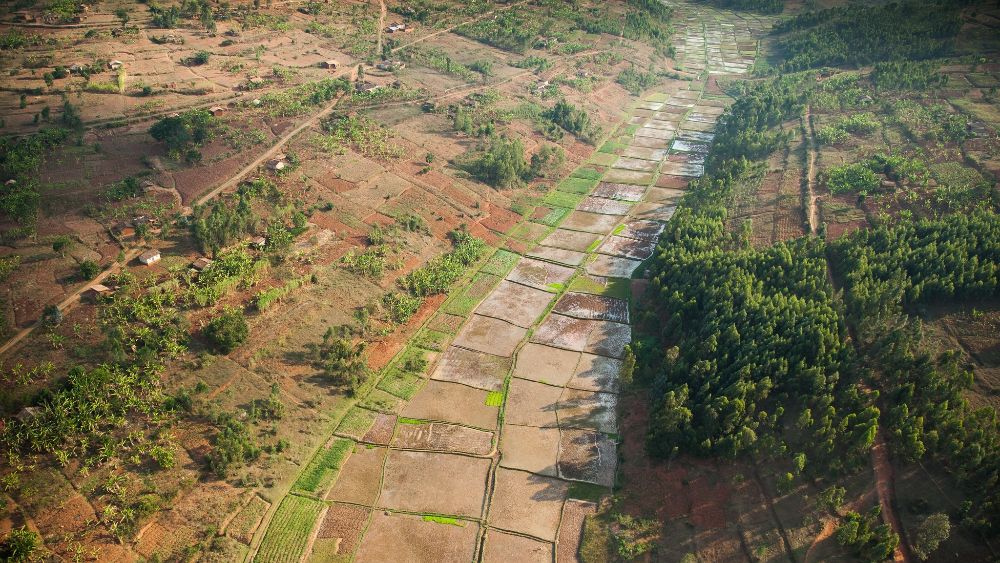 Photo Credit: A'Melody Lee / World Bank. Rice paddies in the swamps and marshes maximize arable land, yielding food, and economic security during the growing season in Rwanda. 
By augmenting the information about how crops are growing, satellite data can help farmers more efficiently use their inputs—seeds, fertilizer, water, and pesticides—as they work to lower their costs while improving their yields. The same data and analytics are also being used to help governments better anticipate food insecurity and to purchase insurance covers that are more reliable and fairly priced, thus offering the right financial compensation when needed. Those efforts contribute to the development of insurance and financial markets in a technically sound and sustainable way.
 
Such data are becoming the foundation for new kinds of financial risk–management products, thereby protecting livelihoods from unanticipated shocks and disruptions in ways never considered before. Such products include the satellite-based Next-Generation Drought Index which is led by the World Bank's Crisis and Disaster Risk Finance Team in partnership with ESA and with financial support from the Crisis Risk Analytics program funded by the Global Risk Financing Facility. The partnership leverages the latest satellite data to secure new ways of protecting livelihoods and economies from devastating droughts.
In the years to come, satellite technology will shift the traditional way of monitoring and financing risks (i.e., using scarce data in opaque models) to one that focuses on identifying key visual patterns in an unprecedented amount of risk information.
 
Though important challenges are associated with that technology (e.g., large amounts of data to process; complexity of extracting useful information; and integration with other, possibly conflicting sources of information), satellite data will enable better-informed and more timely decisions, will empower new kinds of policy and risk-financing instruments and will reshape how we understand and respond to crises on a global scale.
 
This technology shall be leveraged to support governments in their efforts to return to sustainable development pathways while increasing their abilities to strengthen financial resilience to future shocks—whether those shocks are induced by environmental, economic, or social factors—and to be better prepared for the unexpected.
 
Learn more about the work of the Crisis and Disaster Risk Finance Team here and learn more about Earth Observation for Sustainable Development here.
To view this blog in a MailChimp setting, click here. 
Disaster Risk Finance | COVID-19 Blog Series