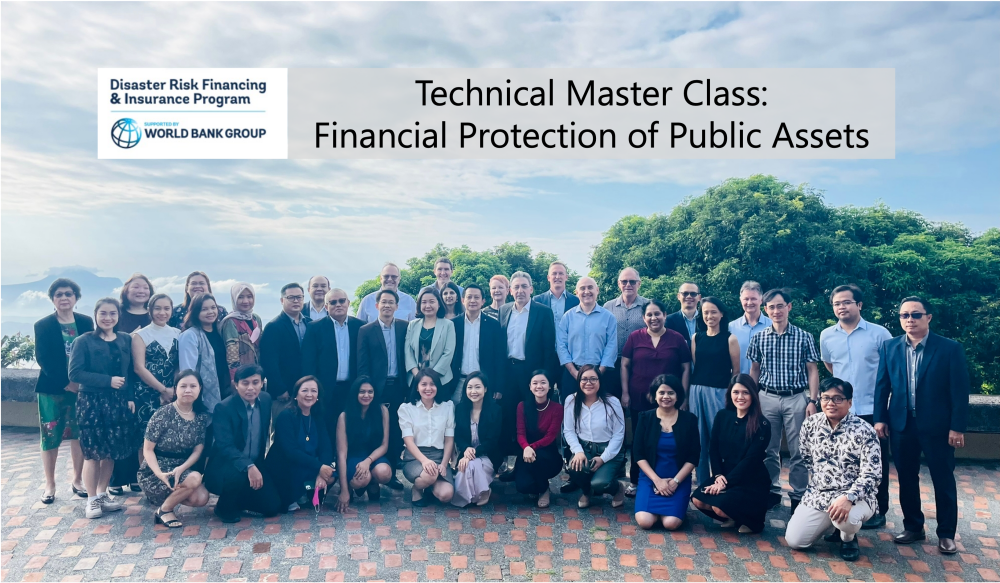 Program Overview
Since a significant proportion of infrastructure and assets are publicly owned, governments often bear the brunt of the costs resulting from natural disasters. There is, therefore, a dire need for an efficient disaster risk finance (DRF) program that ensures a pre-arranged strategy to tackle the financial consequences of disaster impacts on public assets, particularly in the ASEAN region. Many countries, particularly those across the South East Asia region, have made advances in recent years towards trying to put in place financial protection of public assets, and there has been overwhelming demand for knowledge sharing and capacity building programs on the topic of Financial Protection of Public Assets. 
To address the demand for knowledge sharing, the Technical Master Class on Financial Protection of Public Assets was designed based on ongoing technical dialogue in countries, with an emphasis on data systems, policy, and legislation, engaging with private markets, and structuring layered DRF programs. The first in-person, highly targeted, technical deep-dive Master Class knowledge sharing program was held in the Philippines on December 12th and 13th and hosted 20 clients from Laos, Vietnam, the Philippines, and Indonesia. 
Program Objectives
Share knowledge and enhance understanding of disaster risk financing strategies and instruments for financial protection of public assets. 
Facilitate knowledge sharing and best practices in topics related to financial protection of public assets.
Build the skill set to design, implement, and operationalize disaster risk finance programs specific to financial protection of public assets programs
Program Agenda 
Click here to view the program agenda.
Presentations
Please find the presentations and related documents of the program.
Resources
Financial Protection of Public Assets - A Practitioner's Guide for Public Officials - Link here
*For more information, please write to us at drfip@worldbankgroup.org