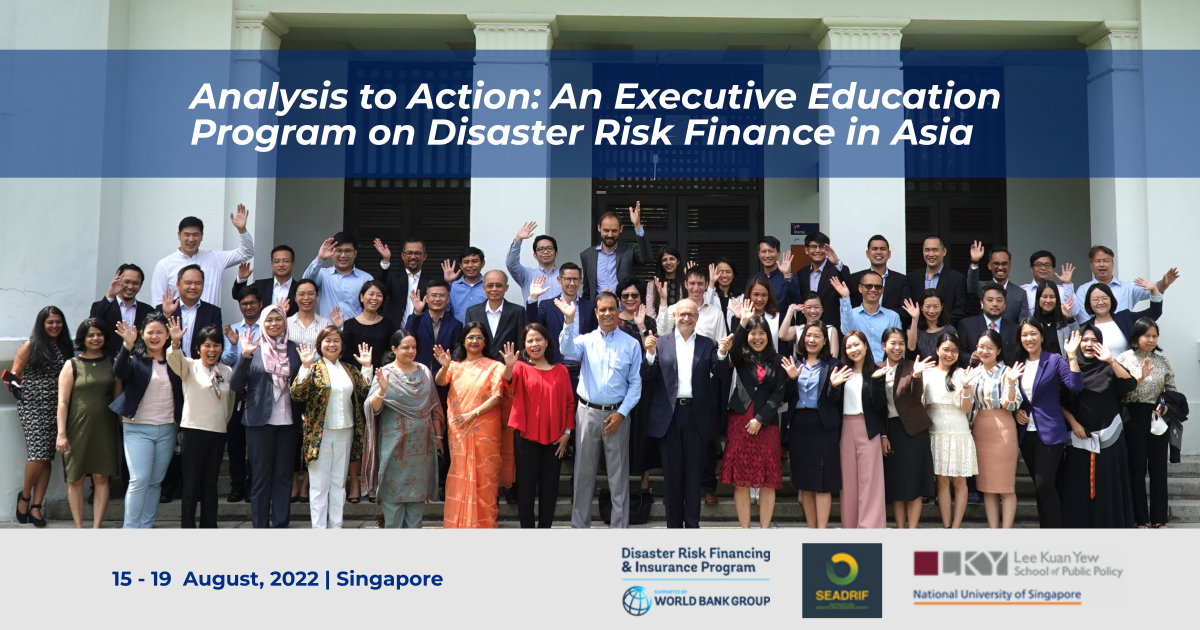 Program Overview
Analysis to Action: An Executive Education Program on Disaster Risk Finance (DRF) in Asia is an invitation-only program jointly developed and delivered by the World Bank's Disaster Risk Financing and Insurance Program (DRFIP), Southeast Asia Disaster Risk Insurance Facility (SEADRIF), and National University of Singapore Lee Kuan Yew School of Public Policy (NUS-LKYSPP). The program is designed for officials from Ministries of Finance who are working to improve their countries' financial resilience to disaster shocks. This includes, amongst others, sovereign risk managers, debt managers, fiscal planners, budget officials and officials in charge of disaster risk financing and insurance.  
Program Objectives
Enhance understanding of Disaster Risk Financing, DRF, strategies and instruments for protection from natural disasters, embedded in the broader fiscal and risk management frameworks.
Facilitate knowledge sharing and best practices on Risk Financing solutions relevant for ASEAN+3 countries.
Build the skill set to design and implement DRF strategies. 
Understand how to implement policy decisions to operationalize DRF across various sectors.
Program Video
Check out the Program Video here.
Post-program Materials 
Agenda | Photo Gallery | Workbook 
Presentations 
Please find the presentations and related documents of the program
  Day 1:

  Setting the Context. What are we Managing?

  

 

  Day 2: 

  Public Finance Planning and Policy Instruments 

  ​

 

DRF Instruments
Case Study 1 - DRF Response to Typhoon Yolanda*   

  Day 3:

  Planning and Communicating Risks

  

 

  Day 4:

  Managing Disaster Risk and Beyond through Data

  

 

  Day 5:

  Managing Stakeholders in DRF

  

 

Case Study 3 - Earthquake Commission: The Canterbury Earthquake Sequence and After* 
*For case studies please write to us at drfip@worldbankgroup.org