[Webinar] Earth Observation and Big Data for Improved Financial Resilience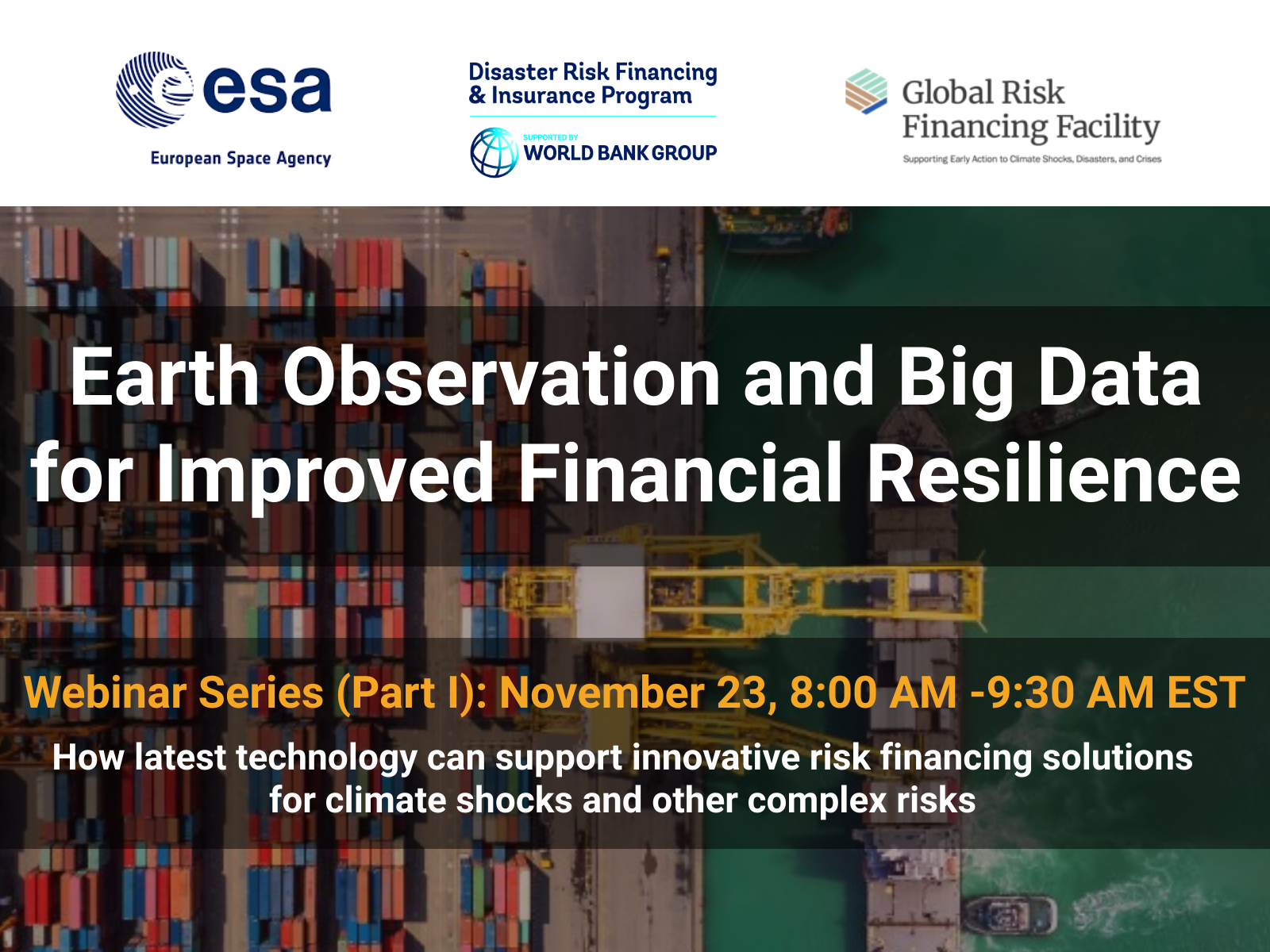 On November 23, in partnership with the European Space Agency (ESA)'s Center for Earth Observation (ESRIN), the Crisis and Disaster Risk Finance (CDRF) team at the World Bank Group (WBG), organized a webinar on Earth observation and big data for improved financial resilience, where a panel of satellite data and risk financing experts from the public and private sectors came together to discuss opportunities and challenges related to the use of new technology for risk financing applications. This included topics such as satellite imagery data for financial loss quantification, social media data for business interruption monitoring, and other decision-making-support applications in terms of financial response and preparedness.
Caroline Freund, Global Director, Finance, Competitiveness and Innovation (FCI) Global Practice, WBG and Stephen Coulson, Head of Sustainable Initiatives Office, ESA, gave welcome and opening remarks, followed by a number of short presentations from panelists (see below) and a Q&A session moderated by Nicola Ranger, Visiting Business Fellow, Smith School of Enterprise and the Environment,  University of Oxford. Antoine Bavandi, Senior Financial Sector Specialist, WBG and Christoph Aubrecht, Program Coordinator, Global Development Assistance, ESA, provided closing remarks on the WB/FCI-ESA/ESRIN partnership and announced a second event in the series, which will take place in the coming weeks to further illustrate the role of satellite data in operational risk financing applications.
The Satellite Technology and Data Analysis in Bridging Insurance Protection Gap, presented by Ekhosuehi Iyahen, Secretary General, Insurance Development Forum
Earth Observation Data to Support Risk and Disaster Management, presented by Driss El Hadani, Director, the Royal Centre for Remote Sensing in Morocco
The Critical Role of Earth Observation in Climate Risk and Resilience, presented by Matthew Foote, Senior Director, Climate & Resilience Hub, Willis Tower Watson
Geospatial Operational Support at World Bank, presented by Clara Ivanescu, GIS Specialist, Geospatial Operational Support Team, WBG
Nowcasting Disaster-related Business Downtime through Social Media Data, presented by Flavia De Luca, Senior Lecturer, University of Bristol
Over 100 participants joined the webinar and the Q&A sparked discussions among panelists on topics including but not limited to client capacity, data quality and processing, validation and ground-truthing, and actual integration within decision-making processes for early financing solutions and early warning systems. Please click here to access the consolidated presentation slides.