[Training Recap] Analytics for Informed Risk Finance in Central Asia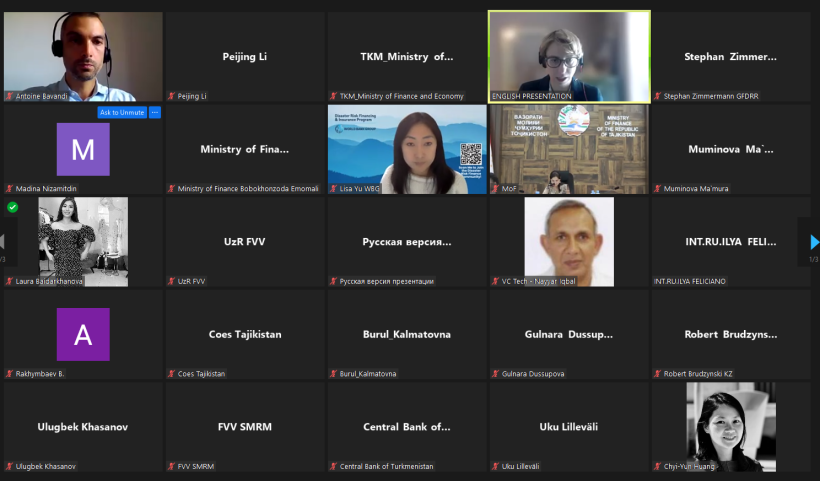 A regional training on the Disaster Risk Finance Analytics Tools took place virtually on November 02, 2021. The objective of the 2-hour training was to raise awareness on the use and potential applications of the tools to concrete climate and disaster risk finance applications in Central Asia, and specifically targeting clients from Kazakhstan, Kyrgyz Republic, Tajikistan, Turkmenistan and Uzbekistan.
The event was designed for decision-makers and technical DRF practitioners within Ministries of Finance, insurance regulators and markets, central banks, and other risk financing and disaster risk management professionals across civil protection, development, and humanitarian communities. The tools presented were developed with funding from the European Union (2016-2021) and tested and implemented in various client countries since then. The event was organized by the World Bank's Crisis & Disaster Risk Finance team (CDRF) in partnership with the Global Facility for Disaster Reduction and Recovery (GFDRR) and with funding from the Global Risk Financing Facility (GRIF).
Welcoming remarks

WBG/Marco Mantovanelli (Country Manager for Uzbekistan)
WBG/Olivier Mahul (Practice Manager, CDRF)
EU/ Johannes Madsen (Head of Cooperation, EU Delegation to Kazakhstan)

Overview of the DRF Core Generic Tools

WBG/Antoine Bavandi (Senior DRF Specialist, CDRF)
WBG/Stephan Zimmermann (DRM Specialist, GFDRR)

Presentation of the Analytics Tools

WBG/Evie Calcutt (DRF Specialist, CDRF)
WBG/Lisa Yu (DRF Specialist, CDRF)
The training was by invitation only, delivered virtually over Zoom, and featured simultaneous translation and multiple screen sharing in English & Russian. Over 83 participants from client countries in Central Asia - Kazakhstan, Kyrgyz Republic, Tajikistan, Turkmenistan, and Uzbekistan, joined the training.
As the next steps, the team will be supporting follow-up sessions with participants to help further understand and customize the information to country-specific needs and applications. Click here to access the presentation slides.