[Recap of Workshop] Financial Protection of Public Assets: Master Class Technical Training and Consultation Event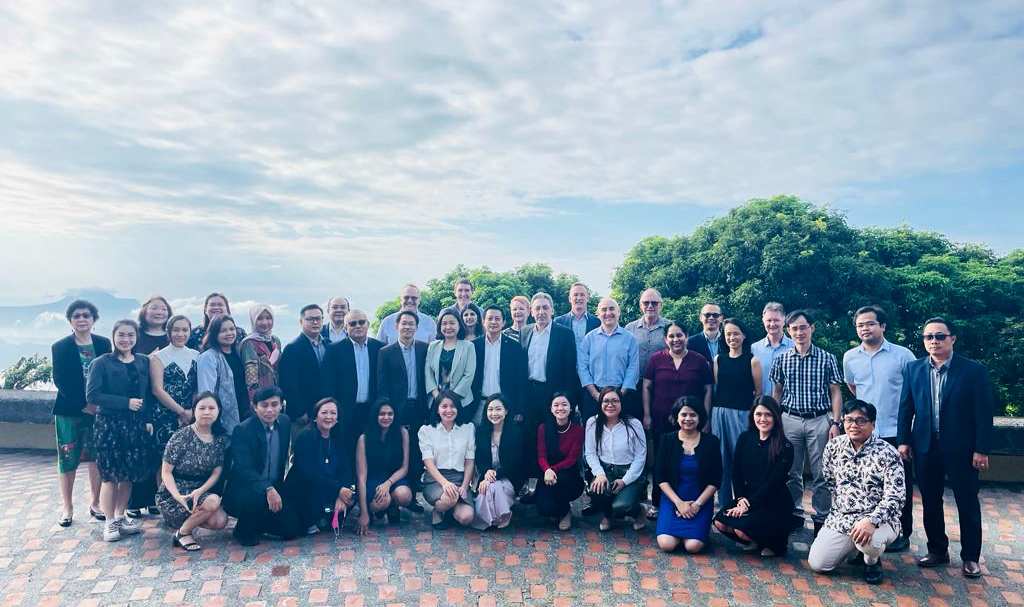 The first Technical Master Class on Financial Protection of Public Assets was held on December 12 and 13, 2022 in Tagaytay, Philippines.
Since a significant proportion of infrastructure and assets are publicly owned, governments often bear the brunt of the costs resulting from natural disasters. There is, therefore, a dire need for an efficient disaster risk finance (DRF) program that ensures a pre-arranged strategy to tackle the financial consequences of disaster impacts on public assets, particularly in the ASEAN region.
The Technical Master Class on Financial Protection of Public Assets was designed based on ongoing technical dialogue in countries, with an emphasis on data systems, policy, and legislation, engaging with private markets, and structuring layered DRF programs. The program was fully financed by the World Bank's Disaster Risk Finance and Insurance Program (DRFIP). Following the two-day Master Class held on December 12th and 13th hosted 20 clients from Laos, Vietnam, the Philippines, and Indonesia.
The World Bank Group is also a technical partner of Southeast Asia Disaster Risk Insurance Facility (SEADRIF), who conducted a separate consultation on December 14, 2022.
Opening remarks
The program was opened by Achim Fock (Manager, Operations, World Bank) who emphasized that governments in the ASEAN region are investing large amounts of money in building assets and services. "However, these investments are at risk with the ever-present threat of climate change and natural disasters. Therefore, it is critical to maximize the value of every dollar invested in public assets," he pointed out. This includes strengthening financial resilience among vulnerable populations to withstand or recover fast after disasters. He added, "The World Bank is glad to be supporting efforts such as these. Programs like the National Indemnity Insurance Program for critical assets that is being developed in the Philippines and those that are underway in Indonesia allow governments to mobilize large private sector finance to protect public assets. They also strengthen the management of government budget and develop asset management systems."
Here is a brief overview of the Technical Master Class held in the Philippines.
Day 1
Master the Disaster: The first session focused on a gamified simulation on the fundamentals of DRF. Embedded within this session was an interactive exercise that gave participants a better understanding of the purpose and scope of DRF and introduced them to an array of financial instruments.
Technical Deep Dive #1 shed light on the legal and policy requirements countries need for unlocking financial solutions for public assets. It also focused on good principles and frameworks, necessary for creating appropriate legal and regulatory requirements. In addition to elaborating on the processes for setting up the enabling environment for public asset protection, the session also included specific questions to stimulate sharing of country experience.
Technical Deep Dive #2 focused on end-to-end data systems and valuation. The presentation highlighted the value and challenges of end-to-end risk and asset-based data systems, and the importance of undertaking insurance valuation. As part of a learning exercise, participants were encouraged to design their own end-to-end data system using pre-designed templates.
The Financial Protection for Public Assets Resources: A Practitioner's Guide for Public Officials was launched. Additionally, participants were given an overview of an upcoming e-learning program that introduces the topic of the financial protection of public assets and provides an overview of the steps to set up financial protection measures. There was a strong interest from clients to build a community of practice for public asset protection.
Day 2
Technical Deep Dive #3 focused on dealing with insurance markets. The presentation dealt with the roles that different stakeholders play, what their motivations are, as well as when and which stakeholders need to be engaged. Participants witnessed a short theatrical skit, scripted, and delivered by the presenters that highlighted the incentives of different stakeholders when it comes to insurance markets. Also included was a role-play exercise, where participants put themselves in the shoes of various stakeholders in the insurance value chain.
Technical Deep Dive #4, trainers demonstrated different approaches to 'plugging and playing' various combinations of DRF instruments to create a comprehensive, layered, and diverse DRF program. This module included an interactive Build-a-DRF-Program simulation for how countries can analyze their risk and create a custom DRF program.
Experience sharing
Over the two days, participants from Indonesia and the Philippines discussed the public assets engagement scenario in their country and answered several interesting questions raised by their peers.
Closing remarks
Zafer Mustafaoglu (Practice Manager, Finance, Competitiveness and Innovation Global Practice - East Asia & Pacific, World Bank Group) provided closing remarks. He emphasized that while the master class provided an opportunity to refresh and enrich the knowledge on the financial protection of public assets, it was important to continue dialogue and learning on the subject beyond the master class.
The training sessions were conducted by professionals and practitioners of disaster risk financing from within as well as outside the World Bank. The event served as a valuable platform for the sharing of knowledge and was successful in bringing together a community of champions on planned public assets engagements. Participants were awarded a certificate at the end of the workshop.
Evaluation and feedback
Overall, the workshop was rated either "excellent" or "very good" by a majority of participants. The "Master the disaster" and "Dealing with insurance markets" sessions were particularly well-received, with 11 clients stating that they were "excellent" and nine rating them "very good". "Structuring the DRF program" session was very well received too, with 11 participants rating the session as excellent. Most participants found the country experience sharing presentations engaging and insightful. In terms of the overall relevance of the master class, 10 participants felt that the program was "very relevant" to their operational work, while 10 found it "relevant". Additionally, 13 participants stated that it was very likely that they would recommend the program to their colleagues, and 8 said they were likely to. Finally, there was a call for more sessions centered on the sharing of country experiences.
Next steps
All the participants shared their key learnings, takeaways, and reflections from the workshop. They requested additional capacity building to better understand how to protect their public assets, as well as training on data systems, parametric and indemnity insurance solutions. Delegates from Indonesia, in particular, showed a strong interest in hosting the next workshop.
Post Program Resources
You can access the program agenda and presentations here.