[Event Recap] WBG-SECO Knowledge Exchange Series: Development of Catastrophe Bonds for Sovereign Disaster Risk Transfer - Webinar #5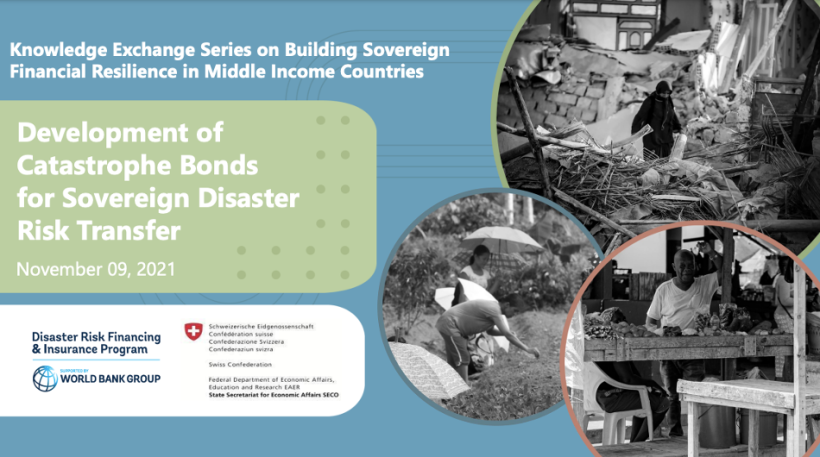 On November 09, 2021, in partnership with Switzerland's State Secretariat for Economic Affairs (SECO), the World Bank Group's (WBG) Disaster Risk Financing and Insurance Program (DRFIP) hosted the 5th session of the Knowledge Exchange Series. The session focused on the Development of Catastrophe Bonds for Sovereign Disaster Risk Transfer. The series is a continuation, in virtual formats, of traditional knowledge exchange events that take place every two years to empower countries under the program through sharing their experience and knowledge in building financial resilience.   
The webinar commenced with opening remarks from Yira Mascaró (Practice Manager, Finance, Competitiveness & Innovation [FCI], Latin America and Caribbean [LAC], World Bank Group [WBG]). Jose Angel Villalobos (Senior Financial Sector Specialist, FCI, LAC, WBG) and Naomi Cooney (Senior Financial Officer, Treasury, WBG) delivered the framing presentations that discussed benefits and challenges of CAT bonds, explained their structure, and talked about the role of the World Bank in intermediation of CAT bonds. Respective country experience and insights about using CAT bonds were shared by Alejandra Barragan (Coordinator, Comprehensive Risk Management Group, Ministry of Finance, Colombia) and Eduardo Anthony G. Mariǹo III (OIC-Deputy Treasurer, Bureau of the Treasury, Republic of the Philippines). 
The webinar was facilitated by Samantha Cook (Senior Financial Sector Specialist, FCI, Crisis and Disaster Risk Finance [CDRF], WBG). It featured a live poll function to better understand and interact with the audience. Over 150 participants from client countries, international organizations, private sector companies, non-governmental organizations, and academia attended the event.   
This Knowledge Exchange Series comprises 8 virtual sessions with complementary Fact Sheets and offers certificates to successful participants. Each session is promoted with a captivating teaser video and offers simultaneous interpretation services.