[Disaster Risk Finance for Agriculture Knowledge Series] Integrated Agriculture Risk Management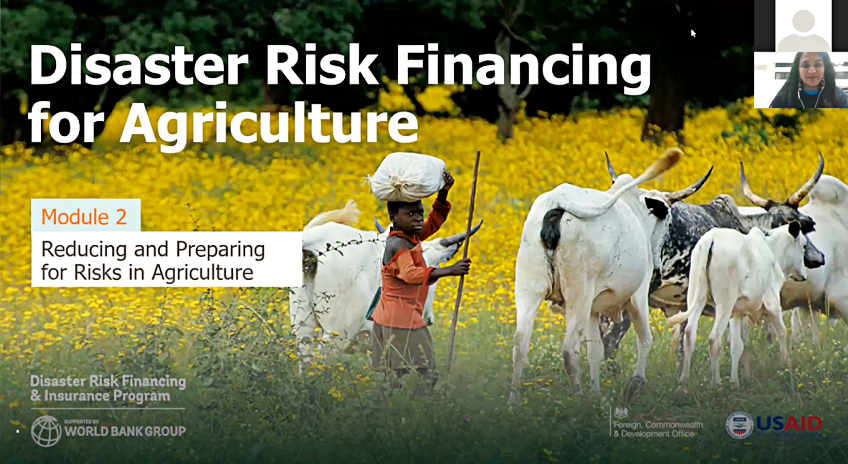 The second webinar in the Disaster Risk Finance (DRF) for Agriculture Knowledge Series took place virtually on April 15, 2021. It focused on identifying risks and prioritizing interventions for risk reduction and preparedness. John Plevin (Financial Sector Specialist, Finance, Competitiveness, and Innovation Globa Practice, WBG) presented the key takeaways and moderated the Q&A. Diego Arias Carballo (Lead Agriculture Economist, Agriculture and Food Global Practice, WBG) introduced the key concepts in agricultural risk and types of risks, and Integrated Agriculture Risk Management and Agriculture Sector Risk Assessment (ASRA) methodology. 
Åsa Giertz (Lead Agriculture Economist, Agriculture and Food Practice, WBG) spoke on a country case study on Zambia demonstrating implementation of ASRA methodology. The webinar was facilitated by Kaavya Krishna (Knowledge Management Officer, Finance, Competitiveness, and Innovation, WBG), featuring live poll questions to understand the participants better and interact with the audience. The webinar concluded with a Q& A session discussing various questions posed by the attendees during the registration and the live session. The virtual session brought together over ­­­­150 participants from client countries, international organizations, private sector companies, non-governmental organizations, and academia. Click here and here to access the session recording and slides. 
The DRF for Agriculture Knowledge Series features interactive webinars and associated fact sheets, taking place from February to September 2021. Invited speakers are industry experts, government clients, and seasoned practitioners from the World Bank Group and international development agencies. This series offers a World Bank Group certificate of achievement. Click here to access the post-event resource page.