Disaster Risk Finance for Social Protection Supports Better Response to COVID-19 and Other Risks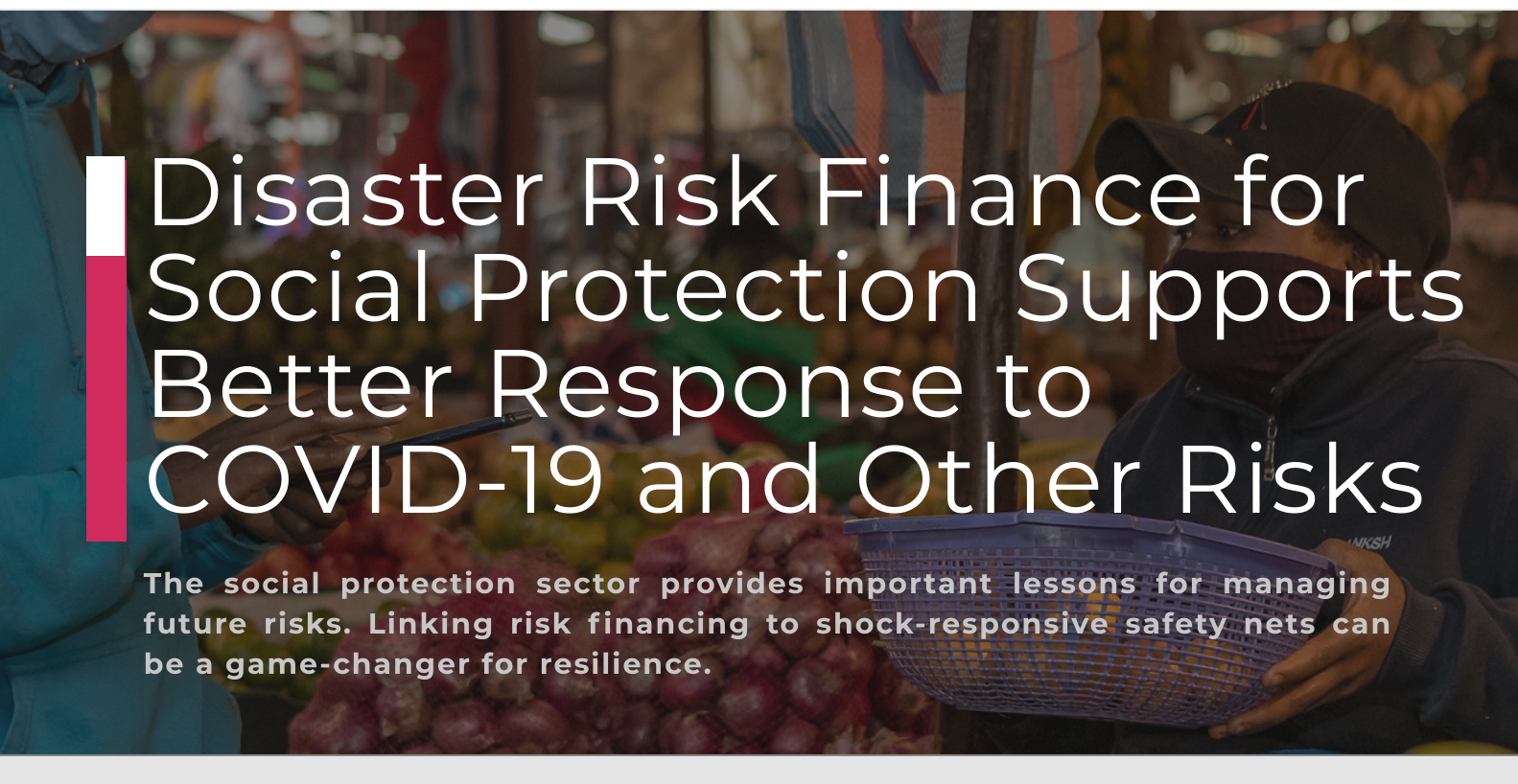 The COVID-19 pandemic is having a large negative impact on all economies given the health shock, global economic slowdown, and the impact of domestic containment measures. Linking risk financing to shock-responsive safety nets, as Kenya and Uganda have done and as Malawi, Sierra Leone, and countries across the Sahel are planning to do, can be a game-changer for resilience. The social protection sector provides important lessons for managing future risks. These same principles can be used to strengthen the shock-responsiveness of other critical sectors, such as health, nutrition, and education services, or integrate 'financial shock absorbers' into vulnerable economic sectors.
Time: August 11, Tuesday, 9 AM - 10:30 AM, EDT
Webinar Connection: The webinar connection link will be sent to you upon successful registration. 
What You Will Learn: 
How does this crisis and disaster risk finance agenda link to the social protection agenda?
In which ways can we support countries to plan better for and financially respond to shocks, including health shocks like COVID-19?
What key lessons have we learnt to date from DRF for social protection and how should this inform mechanisms for Covid-19 response.
Presenters: 
Olivier Mahul (World Bank – Practice Manager of Crisis and Disaster Risk Finance)
Evie Calcutt and Simon Hagemann (World Bank – Crisis and Disaster Risk Finance)[Moderators]
Emma Mistiaen (World Bank – Social Protection)
Lindsey Paul Jones (World Bank Global Crisis Risk Platform)
Sophie Evans (Centre for Disaster Protection)
Organizers: 
World Bank Group
Centre for Disaster Protection
International Policy Centre for Inclusive Growth (IPC-IG)
Global Alliances for Social Protection - GIZ
Australia - Department of Foreign Affairs and Trade, (DFAT)
Click here to access the REGISTRATION PAGE.