In the Spotlight | Featuring: Fatimata Dicko - A Climate Risk Finance Warrior who Walks the Talk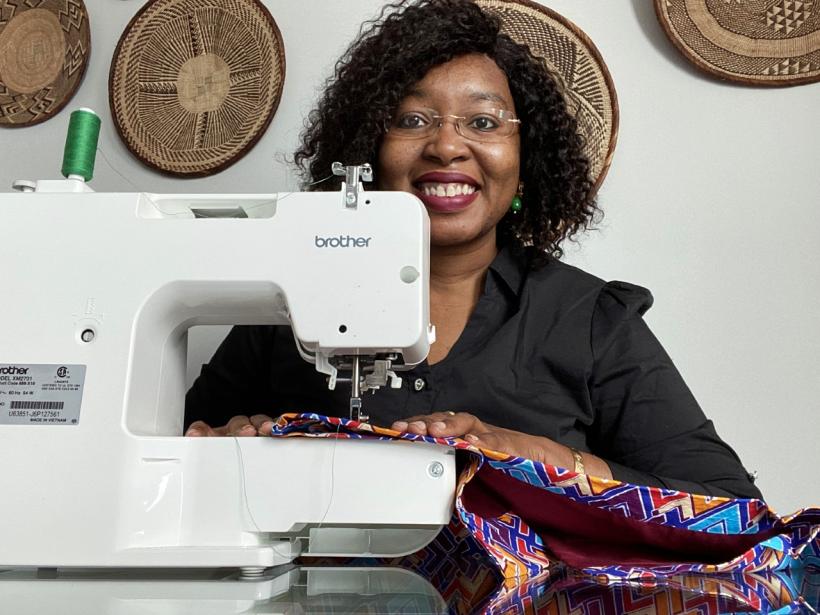 In conversation with Fatimata Dicko, Senior Financial Sector Specialist 
Ninety percent of my cousins still live in the rural areas of Mali, working in livestock and agriculture," Fatimata (prefers Fatima) starts off, "Both these sectors are highly exposed to the effects of climate change. My motivation to work in disaster risk finance (DRF) is really to provide solutions to help people who are in a position like that of my own family. "Fatima recognizes the privilege and power she holds as the first woman in her father's family to attend graduate school."
Fatima's passion for making a positive impact on the lives of vulnerable people affected by natural disasters shines through in her work. "Climate change is very real and managing climate shocks is directly connected to changing lives. Developing countries need to plan for disasters. There is no point in the doctor arriving after the death. International organizations have often been slow to respond in the past, but the situation has improved significantly over the last decade. When I first started working in 2009, Disaster Risk Finance (DRF) was not a priority. However, now clients and countries are realizing the need for a DRF strategy, and the types of solutions have become more sophisticated. The conversation has shifted from just insurance to a broader range of instruments, which is very encouraging," she says with a smile.

Q: What projects are you most excited about? 
I am working on several exciting projects. I will highlight two of them: the Financial Inclusion Support Project in Burkina Faso and the West Africa Food System Resilience Program. In Burkina, I supported the Government to establish the first locally managed partial portfolio credit guarantee scheme (PPCG) in 2020. The PPCG helped crowd-in financing from the private financial sector to micro, small and medium enterprises, women entrepreneurs, agri producers and firms, and farmers affected by the COVID-19 crisis. As of December 2022, 10 financial institutions are participating in the PPCG and have lent cumulatively US$75 million—more than twice the PPCG endowment. With the increase in transaction, the PPCG manager in Burkina has created seven positions. This project is facilitating access to finance and creating jobs in FCV settings like Burkina. In West Africa, I'm really excited about starting a regional project that supports the creation of a risk finance backstop to the ECOWAS regional food reserve. These projects link innovative risk finance solutions to the real economy and real people.
Q: Can you recall a particular incident from your fieldwork that had a lasting impact on you? One that stands out and shaped the way you approach your work today?
Last summer, I met the Secretary General of the Ministry of Finance in Burkina Faso. I had just finished my presentation on DRF for the country, when he said, 'I understand what you're saying. Our people face drought every few years. But we face terrorist attacks almost daily. Yes, climate risk is a major threat, but it's not the only one'. Countries are facing complex crises and need to start thinking about financial resilience more holistically. This was a wake-up call for me. I realized that, even within the World Bank, there is need for continuous reform and collaboration across units. Sometimes, we are so focused on our own operations, we lose the client's perspective. Our work isn't just about different instruments. It's about human life.

Q: Of all your accomplishments, which one are you most proud of?
When I first joined the Crisis and Disaster Risk Finance team at the World Bank, I worked on creating a Disaster Response Fund in Benin. However, the COVID-19 pandemic struck before the fund could be finalized, and the operation was cancelled by the World Bank, as we were not able to get a Catastrophic Drawdown Option (CAT-DDO) approved on time. Despite this setback, the client recognized the importance of DRF and decided to progress the development of the Disaster Risk Fund. Since then, they have continued to put resources into the National Fund for Disasters (FONCAT). During my last visit to Benin in January 2023, the government triggered the fund to aid regions affected by floods. It was a great feeling! 
Q: Why are collaboration and building a strong team important?
If you want to deliver something impactful, you need to acknowledge your own limits and call on people who can deliver. The value of a good team cannot be overstated. A good task team leader communicates clearly and openly, checks in on his/her teammates regularly, and supports those who are struggling. I try my best to do all these things.

How do you like to spend your free time outside of work?
I love fashion. These days, I try to combine my love for fashion with development and sustainability. Whenever possible, I buy from young designers, particularly in the African region. Senegal has some excellent leather goods, while Togo is great for exquisite and innovative clothes. A secret most people don't know is that I often design and sew my own creations. I really enjoy sewing. It takes my mind off work and allows me to get creative. 
I also enjoy spending time with my friends in DC. We meet up and go for walks. Our walks don't last long. We end up going to a coffee shop and talking. I also enjoy the movies; sometimes, I watch the same movie up to four times. I currently have Creed III on my watchlist. 

You can find more information about Fatima and read her blogs and technical papers on Disaster Risk Financing here.