Giving Life to Numbers: Communicating Risk Through Art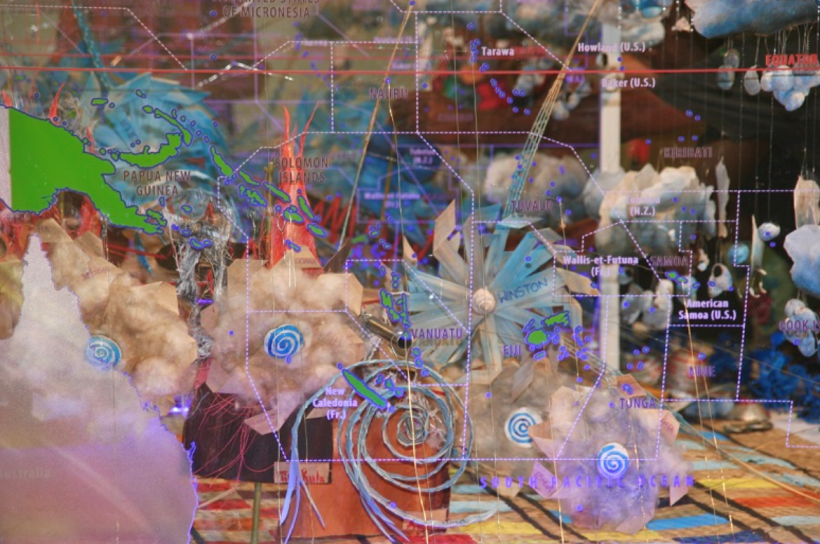 The way disasters impact people's lives can be difficult to comprehend and so can the data around disaster risk.
Does the gravity of risk data resonate with people if they are only interacting with it through numbers and two-dimensional charts on a page? Can the scale of impacts be conveyed through such flat media? Will data in this format drive the level of action and innovation necessary to address growing risks in a warmer world?
In the face of these challenges, art can play an increasingly important role in risk communication. Art gives life and emotion to numbers, allowing for the communicator to more powerfully convey data that represent significant threats to people's lives and livelihoods.
In October 2018, the
World Bank's Disaster Risk Finance and Insurance Program
(DRFIP), the
Global Facility for Disaster Reduction and Recovery (GFDRR)
, and the Government of Vanuatu co-hosted
Understanding Risk Finance Pacific
in Port Vila, Vanuatu. URf Pacific is part of the broader
Understanding Risk (UR) Communit
y. This forum, organized as part of the
Pacific Catastrophe Risk Assessment and Financing Initiative
(PCRAFI), brought together more than 200 participants from the region and around world, including Pacific ministers of finance, policymakers, financial risk managers, and development partners, to strengthen collaboration on climate and disaster risk finance in the Pacific.
The centerpiece of the conference – the Innovation Hall – was a five-meter long data sculpture illustrating the range, frequency, and severity of disasters that have affected Pacific Island Countries over the last 25 years. The designer and lead artist behind this sculpture is
Pablo Suarez
, who has worked in risk communication for almost two decades.
Suarez observes that risk involves people: those who suffer from the consequences of poorly managed risks, and those who make decisions about risk management.
According to Suarez, "Disaster risk is best understood through a combination of our analytical and emotional abilities. We must explore methods for creating a deeper understanding of this information in order to inspire action." However, the power of art as a risk communication tool is only starting to be realized in key organizations.
Poor understanding or communication of climate and disaster risk information can have severe consequences, especially in regions as vulnerable as the Pacific. Homes and loved ones are lost to disasters far too often in this part of the world.
"Why not transform the data behind these risks into something people absorb with their senses, that grabs them in an emotional way?" Suarez asks. An engaging medium, such as sculpture, can better convey patterns embedded in risk data, including the potential impacts of changing climate risks.
The data sculpture built for the conference organizes a large collection of data sets, enabling comparisons between different data points, and telling multiple intertwining stories about people, nature and finance. For the government officials, development institutions, and humanitarian relief organizations attending the conference, the sculpture was a visual reminder of the importance of developing financing solutions to manage the devastating impacts of disasters.
Pablo Suarez further explains the data sculpture and what it means for disaster risk management.
The sculpture was designed and built through a collaboration between Suarez and 20 local artists convened by the Foundation Suzanne Bastien in Port Vila, Vanuatu, using local imagery, materials, and techniques.  Vanuatu, a country that is incredibly vulnerable to disasters has been greatly impacted by many severe natural events in recent years, including the eruption of Manaro Voui volcano on Ambae Island, which forced thousands of people to evacuate. Responding and building resilience to disasters is a way of life in the country and the Ni Vanuatu people often depict disasters in their art.
The data sculpture illustrates 25 years (1993-2018) of data on atmospheric and oceanic parameters (rainfall, wind, sea surface temperature and sea level rise), extreme events (tropical cyclones, earthquakes, tsunamis, and volcanic eruptions), as well as economic losses, deaths, and people affected by disasters in the Pacific region. Given the focus of the conference on the role of finance in building resilience to disaster and climate risks, the sculpture also shows financial flows in response to major disasters including insurance payouts and humanitarian assistance.
Government budgets alone, especially within small island states, cannot bear the costs associated with a changing climate and growing disaster risk. Some innovative financing solutions are emerging in the region. As part of the PCRAFI Program, the World Bank has helped establish the Pacific Catastrophe Risk Insurance Company – or PCRIC – a Pacific-owned insurance company that provides earthquake and cyclone coverage to its member countries. The World Bank is now supporting PCRIC to provide more complete coverage to rural areas and is exploring the feasibility of an insurance product for volcanic risk.
At the end of the conference, the sculpture was donated to the
Vanuatu Cultural Center
, where it will be on display as an educational and inspirational tool for the people of Vanuatu, and visitors to the country. The sculpture tells the story of the strength of Pacific Islanders and reminds all viewers of the importance of investing in resilience.
*Image: "Risk & Time: A Data Sculpture on Nature, Disasters, & Finance." Photo Credit:The World Bank